Efficiency is crucial in any laboratory. Maintaining an efficient workplace means saving time, energy, and money without sacrificing the quality of your work. Achieving and maintaining that productivity and doing more with less can help you optimize your workflow and get the best economical results.
Here's how to improve your laboratory efficiency.
7 Ways to Improve Your Lab's Efficiency
Adaptability, workflow, security, and communication are crucial components of a lab's effectiveness. Having a laboratory improvement plan can help enhance patient care and lead to a significant difference in your bottom line.
Here are several useful lab improvement ideas for better efficiency:
1. Evaluate Processes
Before designing an improvement plan, you'll want to identify and evaluate any inefficient processes you currently have in place. Thoroughly examine your processes and create a detailed outline. Walk through your workspace and evaluate these processes to determine how long it takes to complete each step.
Take note of any steps that take longer than expected, redundancies, and other areas for improvement. As you create an efficiency plan and refine your processes, ensure you standardize them across your laboratory to reduce errors and improve productivity.
2. Consider the Layout
An efficient layout is important for any research lab. Designing your workspace with efficiency in mind is vital for better operations and management. The right layout should be ergonomic and functional while following proper lab design and safety practices and prevent cross-contamination.
To do this, organize your workspace logically, with related equipment and materials near each other. Clearly mark your safety equipment, exits, and emergency protocols to reduce the risk of accidents and ensure quick emergency response.
3. Invest in Quality Equipment and Maintain It
Newer, high-quality equipment can make all the difference in lab efficiency — returning better results, running higher volumes, and reducing wasted time due to technical problems. Ultimately, it can improve patient care and your bottom line.
Older lab equipment can run slower and break down frequently. These failures can cause problems for the test being performed while wasting samples, which can require recollection — increasing the time and resources needed for the test. Having quality, efficient machinery means shorter hands-on time with the equipment, increasing walkaway time for you to work on other projects.
Cleaning, calibrating, and using your equipment following manufacturer recommendations will keep it in good working condition. Regular maintenance can also extend its life and help identify minor issues before they become more significant and costly.
4. Stay Organized
It's crucial to keep your lab organized. Use labels, declutter at all times, and consider the purpose of each area in your lab. For instance, avoid blocking walkways or access points with equipment. Keeping these items away from these areas can help protect your team and help them operate that equipment more efficiently.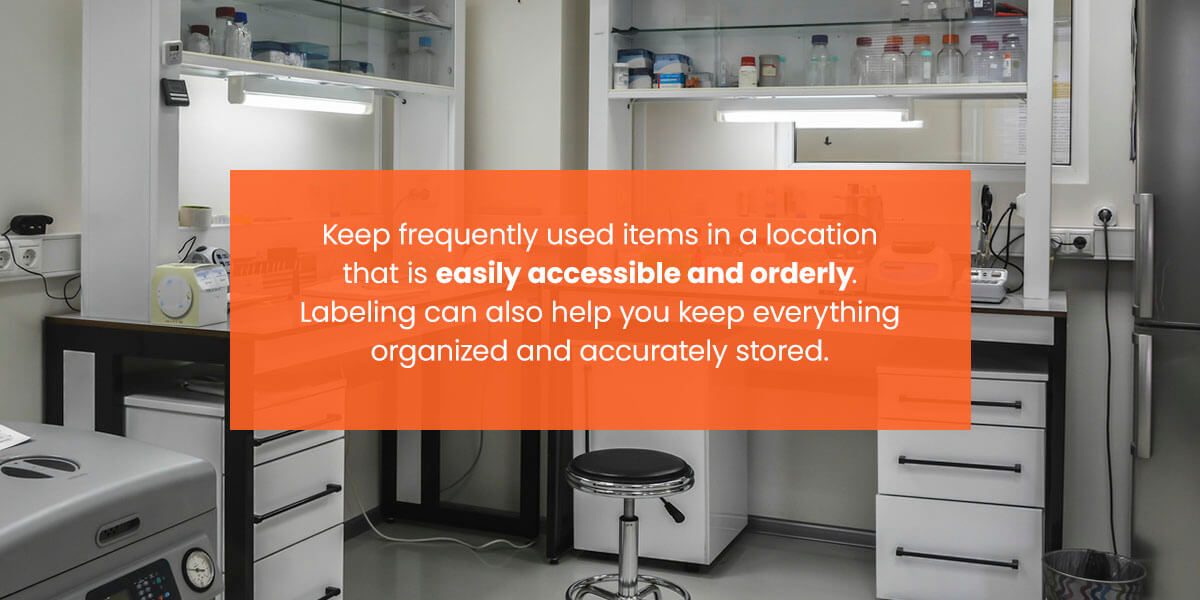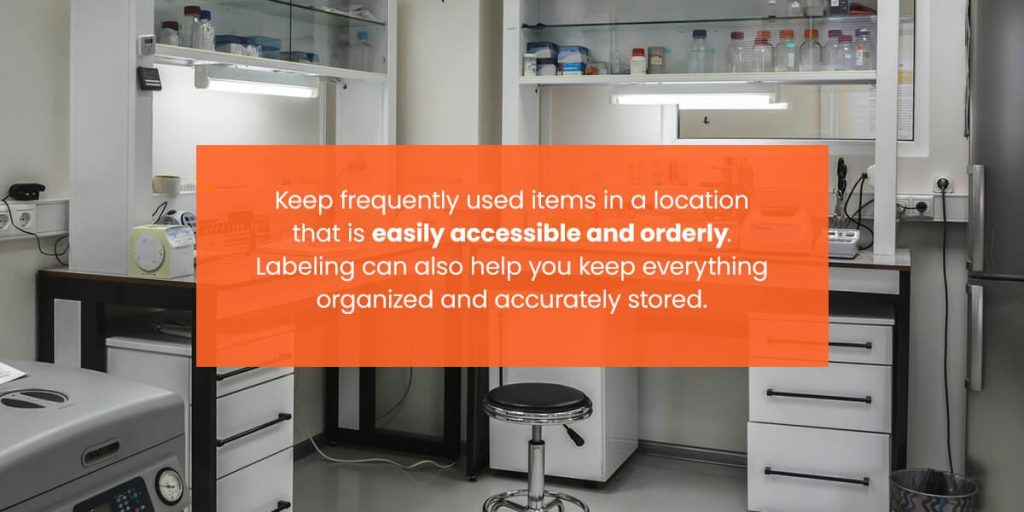 Keep frequently used items in a location that is easily accessible and orderly. Labeling can also help you keep everything organized and accurately stored. Include information like the date of the experiment and who conducted the test. This practice will ensure accurate measurement and facilitate the analysis of results.
By reducing clutter and maintaining a well-organized space, you'll save time and improve the overall efficiency of your lab.
5. Train Your Staff
Ensure that your staff is highly skilled and knowledgeable for better lab efficiency. Your team should fully understand the equipment to save time and be more productive. It's also crucial that you keep your staff updated on any new developments or breakthroughs in the field.
Training could be one or more of the following:
Class-room training
One on one training
Hands on training.
Manufacturer/Supplier based training.
Training materials must include:
User Manual for the specific instrument
Special instructions from the manufacturer or developer of assay
Instructions for Use
Latest developments in the field
If there needs to be deviations from the recommended procedure indicated above, it is advisable to get it clarified from the manufacturer, before implementation.
6. Document Everything
Proper lab documentation is a crucial element of a good laboratory improvement plan. You'll want to document the following daily tasks and processes:
Results of experiments
Records and samples
Notes regarding lab protocols
The time it takes to perform tasks
Current Good Documentation Practice (cGDP) requires all documents including reference documents need to be reviewed and approved before being stored in a common storage location and before use.
Being able to reference this information can be helpful for several types of situations. Storing detailed descriptions of these processes can also help if a new staff member needs to step in at any time.
7. Go Digital and Automate
Another excellent way to improve laboratory efficiency is by reducing paperwork and files. Digitizing your files can improve your workflow by removing clutter and making it easier to find and share information. It can also make it easier to store your notes in an indexed format and collaborate with colleagues within and outside of your lab.
Additionally, automation can help you streamline your data entry, results reporting, specimen preparation, and other pre- and post-analytic tasks. Investing in automation can allow you to focus more on higher-priority and specialized assignments.
How to Make Your Lab More Effective With Applied BioCode Inc.
Applied BioCode Inc. is an in vitro diagnostic (IVD) company specializing in designing, developing, and commercializing multiplex testing products. Using innovative and bio-inspired Barcoded Magnetic Beads (BMBs) technology, our support team can help make your lab more effective.
Our technology combines microparticles with digital barcodes to immobilize oligonucleotides and proteins on their surface for multiplex analyte detection. It mass produces BMBs through a robust and highly reproducible semiconductor fabrication process. By enabling the scanning of 4,096 unique barcodes, our advanced technology can help you eliminate ambiguity in identification — saving your lab time and resources in the process.
Examples of instruments that can help you streamline your processes and increase productivity include:
BioCode® 2500 Analyzer: For instance, use the BioCode® 2500 Analyzer to detect multiple targets or biomarkers in one sample. By increasing throughput, the instrument can reduce sample size and the overall cost of detection compared to conventional nonmultiplex testing methods. It's also affordable and easy to use, detecting beads' barcodes and fluorescent signals in about 30 seconds.
BioCode® MDx-3000 System: Additionally, the BioCode® MDx-3000 system can optimize sample throughput while maintaining quality. The technology is cost-effective, including a 96-well format molecular diagnostic system and an intuitive interface to help you improve your processes.
With the ability to multiplex, you won't need multiple instruments to scale. Our technology allows for masking and unmasking of pathogen targets, saving you time and money to improve your lab's efficiency. Using our breakthrough solutions as part of a comprehensive laboratory improvement plan can help you improve your efficiency while providing higher-quality results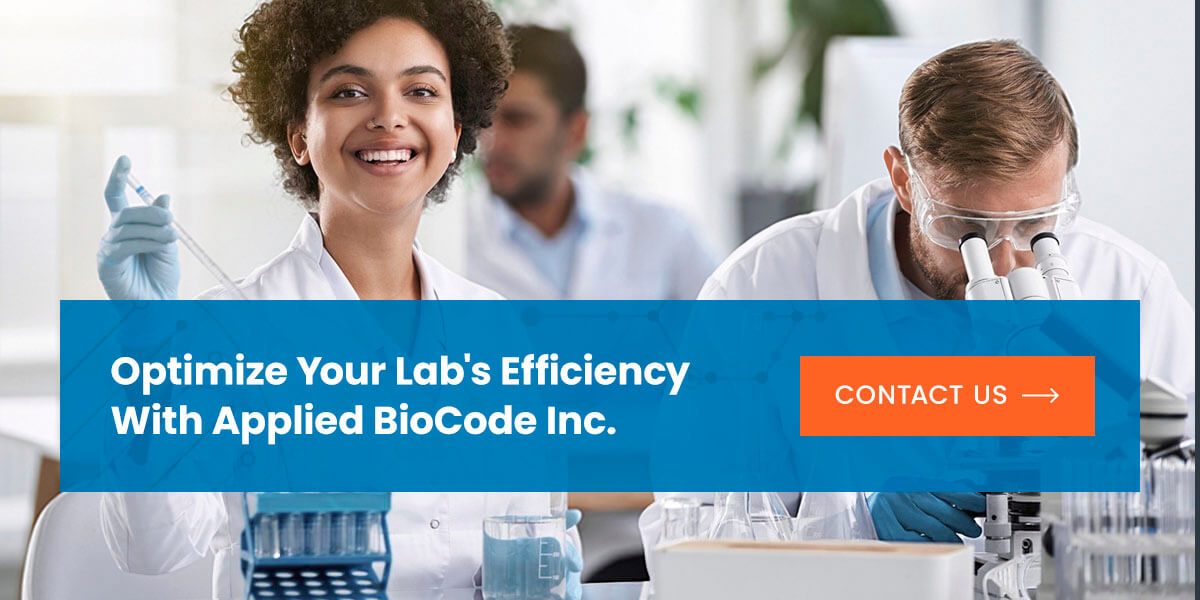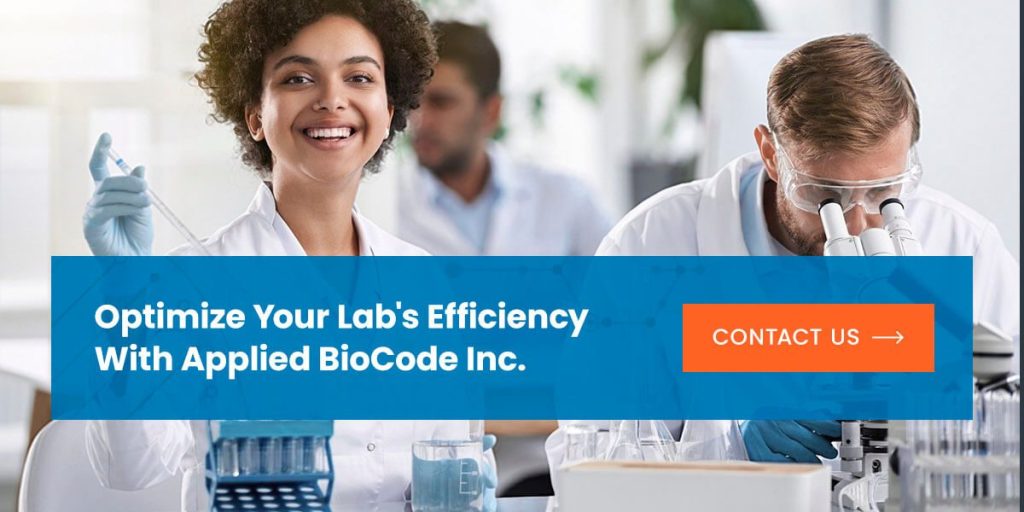 Optimize Your Lab's Efficiency With Applied BioCode Inc.
Optimizing your laboratory's layout, staying organized, and taking advantage of new technology all make excellent lab improvement ideas. At Applied Biocode Inc., we can help you improve your processes and streamline your workflow with our breakthrough technology and high-quality products.
With high throughput and masking capabilities, our clinical diagnostic assays can help you deliver patient samples much faster than traditional testing methods. Additionally, our instruments can help you enhance how your lab uses tools for research and diagnosis — helping you improve your efficiency and streamline patient care.
Get in touch with us to learn more about our products and technology.